Hello !
I hope you are settling well into this new winter season. Last week, I led a bootcamp to wrap up a 6-month program with 20 digital health startups. It was a nationally-funded program aimed at making Switzerland a leading player in digital health.
I've realized, once again, that goal setting and maintaining focus are common challenges for these entrepreneurs (and for me, to be honest 😱).
So here, I'll share what has worked for me, developed over the past 5 years through trial and error, to become more focused. And it's not thanks to goals, but systems (I'll explain what this means). Whether you're an employee in a large corporation or a freelancer - this might help you (or at least I hope so - let me know! ).
​
"The direction you are heading in matters more than how fast you move.
​
Picking the right direction for every decision is far more important than how much hard work you apply."​
​
Naval Ravikant
​
Get comfortable for your 5 minutes of sparks to hack.
​
​
✨ Spark
​
My journey has been the following: from goals (my only focus as an employee for 15 years) to habits (I tried to change the way I worked and prioritized when starting Bambooster in 2018) to systems (yes, finally 🎉!!). Let me explain.
​
✏ Gaols are not enough
​
Goal setting without habits failed me for many years. I am still doing my quarterly goals (OKRs), and review them once a month. But this is not actionable enough for me and, to be honest, it is not what brings me the most impact. So, in the long run, the best way is to acquire habits that help you
​
✏ No good habits - no focus
​
So I used to try to develop habits to be efficient and focused. With small daily habits, we can achieve big accomplishments. We "just" need discipline.
​
"Motivation is what gets you started. Habit is what keeps you going." Jim Rohn:
​
​
​
​
But the real question is: Are your current habits leading you toward your desired goal? Habits are weak: they are challenging to establish and often easy to deviate from (remember the last time you said you would run during your lunch break or stop eating chocolate ;)).
So, you need to focus your time and energy on something else: the system.
​
✏ Why systems matter more than habits?
​
In "Atomic Habits," James Clear refers to "systems" as the collection of daily habits that lead to achieving your overall goal.
Here's the lowdown:
Habits are the atomic units of our routines, tiny but powerful.
A System is like a recipe. Each habit is an ingredient that works together to create the desired outcome.
​
For me, the system helps me like this frame to hold my habits and stick them together.
In essence, a good system removes the need for constant willpower or motivation because it becomes part of your daily life, almost like auto-pilot 🛫 .
And that is how you can be focused in the long run : Goals are good for setting a direction, but systems are best for making progress.
​
✨ Hack
​
So what is this frame (aka my system) composed of at Bambooster?
"You do not rise to the level of your goals. You fall to the level of your systems." James Clear
Here are 3 components that are helping me develop the habits I want as a solopreneur.
​
✏ System of my IT tools
​​
​
I don't think about IT tools, just about being productive (Habits). I think about a system that will help me counteract my endless 'new things I could do' creativity, my lack of time dedicated to business development, and my disinterest in finance (😡 I am working on it).
Let me give two examples from Bambooster:
My second brain for my ideas and inspiration is Evernote: to become more disciplined in collecting and sorting inspirations (articles, photos, blog posts, podcast notes, etc.), and being able to use them easily during my writing process.
My project management tool is ClickUp, where I can work asynchronously with the six freelancers helping me, and it forces me to spend time on what I am reluctant to do.
So for you, what is the most important habit to reach your goals by the end of this year, and what is the one IT application that could help you?"
​
✏ System of my roles: the Hatslots technique
​
Yes, the word 'Hatslots' does not exist, but now it does (It's my newsletter, I do what I want 😛). 'Hatslots' is a combination of 'hats,' representing my different roles in my business, and 'time slots.'
This is the best way to ensure I'm working ON my business and not just IN my business. This could help you to work ON your career and not just IN your employee role, or to work ON a project and not just IN a project 😉.
How does it work? You have to identify all your roles and block time slots in your calendar. For me:
As a CEO: Monday morning, 1h for strategy planning.
As a CFO-Finance head: Friday, 1h for finance.
As a content creator: Writing time in the mornings until 10:00 am.
As a Business Development head: Just before lunchtime (this one is still really hard).
Human reseourcesplanning head: start of eachresources month (including planing of hours for freelancers)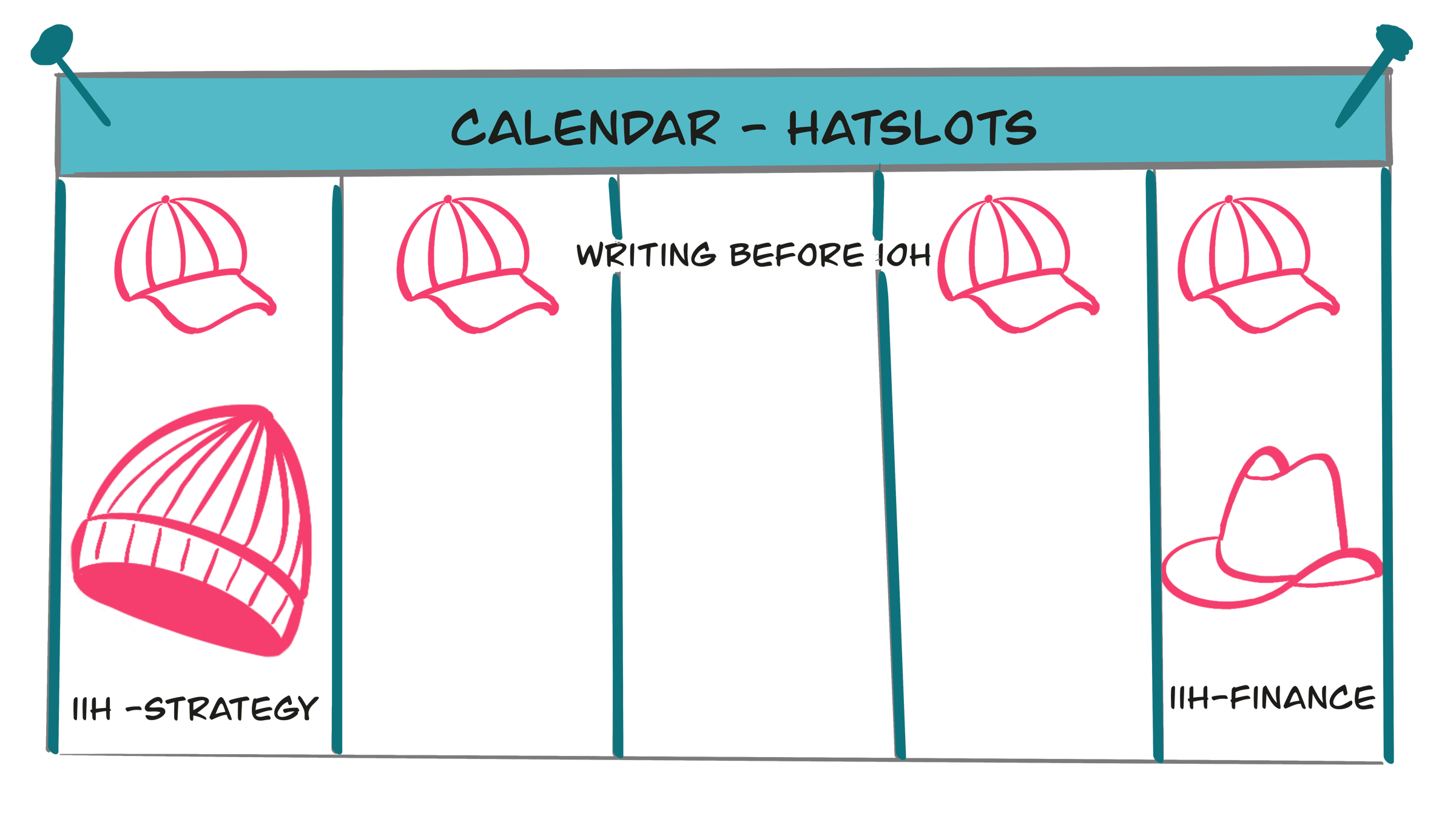 ​
You can even combine this with accountability partners - the 6 freelancers I work with help me to keep these 'Hatslots' alive.
​
✏ System for regular self-reflection
​
To make sure you're moving in the right direction toward your goals, you can randomly ask yourself one of these questions. I do it on Fridays (some questions are quite tough, but I know the apéro/appetizer is coming soon 😅).
What is the biggest bottleneck to achieving your next goal? Why don't you work there today?
If someone could only see your actions and couldn't hear your words, what does he think your priorities would be?
What is the ONE thing you can do that makes everything else easier or unnecessary?
​
However having a comprehensive system and daily habits is insufficient to reduce the time between discovering technologies or ideas, and making significant investments, and getting your first paying customers.
​
You must also:
​
Design your business model and identify your customer's needs.

Learn how to pitch and develop compelling value propositions.

Identify your main business risks (desirability, feasibility and viability) and design experimentations and prototypes to collect evidence.
​
All of this can be learned in my online coaching program for early-stage teams in healthcare based on the insights from more than 500 healthcare teams coached including Roche, MSD or Pfizermust identify : "The Academy".
​
Why wait until spring to be the best? ;)
​
​
​
​
See you in two weeks. Keep the spark alive, and be intentional :).