Hello !
​
​
Thank you for the amazing feedback I received on the last newsletter (some of you even suggested I do a training on ChatGPT😅).
This week I would like to share my thoughts on how to effectively approach complex problems in healthcare. Over the years I have tried many tools and the most effective way I have found is to combine multiple innovation methods to create a unique and holistic approach.
Here is a snapshot of my Bambooster method used with more than 500 teams (they all survived - no worries 😉) over the last 8 years.
"Simplicity is the ultimate sophistication."
Leonardo Da Vinci
Get comfortable for your 5 minutes of sparks to hack.
​
✨ Spark
​
If everyone has something different in mind, don't expect alignment or speed in exploring new ideas.
I like to ask my trainees: "What are the steps in an innovation journey for a new project you are starting? Draw me what you have in mind".The answers are always different.
But teams benefit enormously from having a common understanding of the steps involved in developing a new product or service. When everything is uncertain and volatile, you need a common ground, a red line to follow. Here is mine.
✏ Diverging and Converging mindset: Yin and Yang of Innovation
​
Opposite mindsets need to be adopted by you and your team.
To unlock the full potential of your innovation projects, you need to master these 2 essential steps: Diverging and Converging.
​
Diverging Mindset: Embrace expansive thinking to explore all possibilities. Examples: Brainstorming numerous ideas for a new healthcare digital application; gathering diverse perspectives to improve patient care.
Tips for Diverging Mindset:
Encourage free thinking without judgment.
Use pen and paper, sketch (I always ask my coachees to sketch, this is really fun, well at least for me 😉)
Welcome all ideas, no matter how unconventional: the famous "Yes AND"
Converging Mindset: Analyze and refine ideas to identify the best solutions. Examples: Prioritizing app features based on user needs and feasibility; selecting the most effective patient care improvements.
Tips for Converging Mindset:
Establish clear and aligned evaluation criteria.
List additional information needed to finalize the prioritization and obtain them quickly.
Explain to the team that ideas that have not yet been selected are not necessarily retired (I deliberately used 'retired' rather than 'killed', to make it sound less violent - in the same way that I ask my kids to stop talking about "the people they've killed" in the video game Fortnite).
​
✏ Free from method Dogma: focus on the goal of each Step
​
Most of my clients don't know what they need, only what they want.
Clients often approach me with "We want Scrum training for our Access team" (but without a holistic understanding of what agile is, Scrum will not help). "We want Design Thinking training for our commercial business unit", but in reality they need to prototype and test, so Lean Startup is a better choice.
But this is normal, it is not their fault.
This is because most consultancies focus on one method only: Agile, Scrum, Design Thinking, Lean Startup, Business Model Innovation. This leads to competition between methods (Scrum is better than...) as a proxy for competition between consulting companies. So almost all trainings are siloed by method. But you can't empower a team if they don't see the journey, just a few steps or a method.
​
Don't limit yourself to one method or set of rules
When approaching a complex problem, it's important to be flexible and open-minded. Instead of focusing on one method, understand the goal of each step in your innovation process and adapt your approach as needed. This mindset allows you to leverage the strengths of multiple methods.
For exemple for me some methods are more disciplined (like Scrum and Lean Startup). It brings the structure and consistency to stay focused and make progress. On the other hand, others are more creative (like of Design Thinking and Jobs to Be Done framework). They give us the freedom to explore new ideas and tap into emotional aspects..
Innovation requires a delicate balance between discipline and creativity, so you need to do the right mix of methods.
​
✏ Simplicity and Visual: one mindset and selected tools for each small steps
​
When something is complex, you need to break it down into simple steps.
This is why I split the well-known double diamond of design thinking into a triple diamond. This is my way of teaching the agile and entrepreneurial journey. I also like to take into account that the time we will spend on the last diamond until the offering is on the market is likely to be longer than the other two parts. This helps me get my messages across.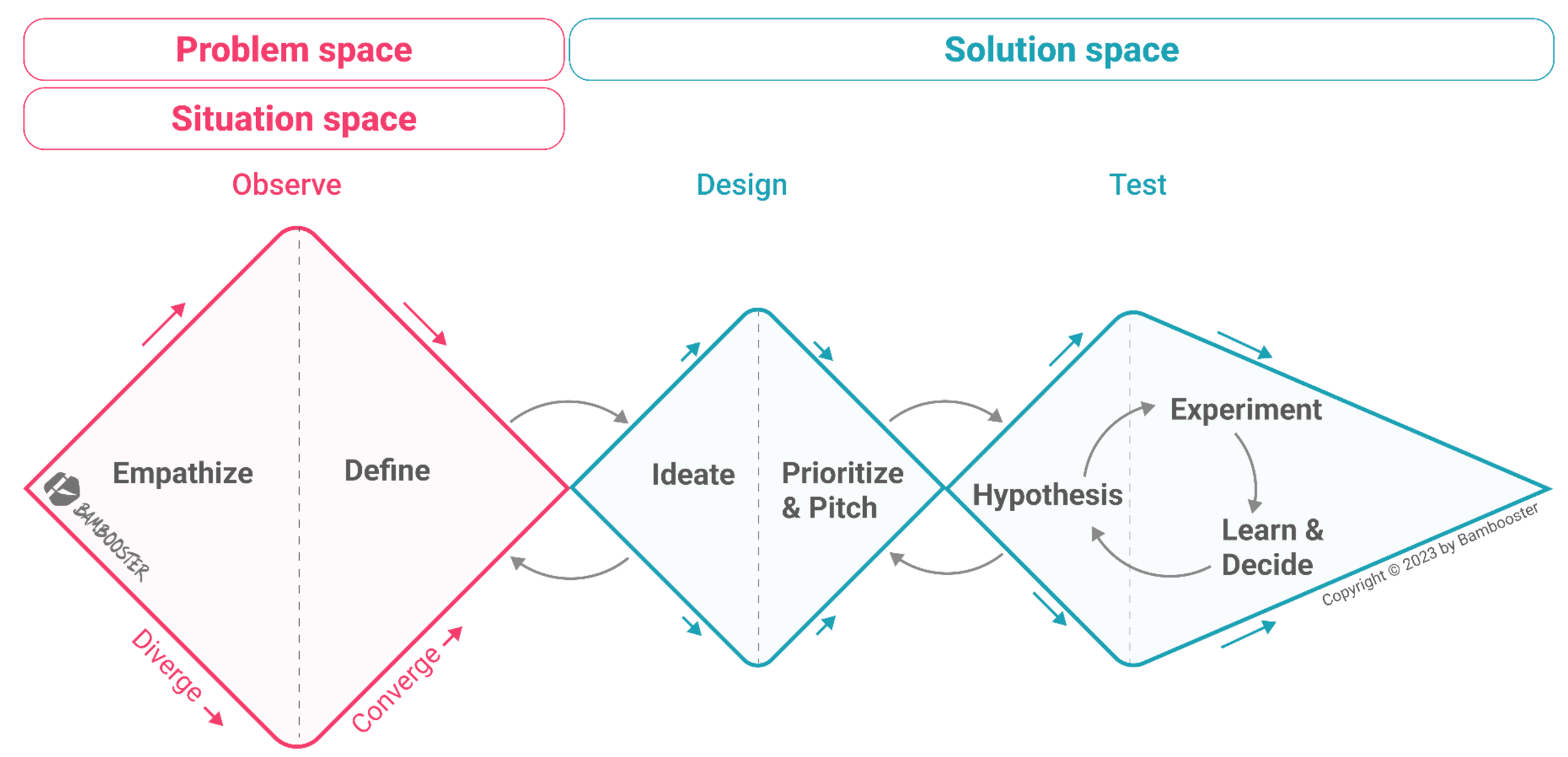 ​
Start with a clear goal and vision Define the problem you're trying to solve and the desired outcome (the pink diamond here👆). This clarity will guide your team throughout the innovation process and help them stay focused on the end goal.
Embrace an Iterative Process. Innovation is rarely a linear journey. Be prepared to iterate and pivot as you learn and gather feedback. The Lean Startup's Build-Measure-Learn loop can be a helpful framework to guide this iterative process.
Clarify design vs test : when you design you could only be with your colleague (even I like a lot co-design with nurse, doctor, pharmacist..). But when you are in the testing phase, your team must spend at least 70% of their time on the project outside your company (I can imagine if you are a startup you don't see what I'm talking about - lucky you! 👏)
​
By blending the best aspects of multiple innovation methods, you can create a powerful approach to tackle even the most complex problems. Remember, the key is to focus on the goal of each step, maintain a balance between discipline and creativity, and keep things simple and visual. With this mindset, you can unlock new levels of innovation and success.
​
✨ Hack
Now that you've learned my recipe, now it time for you to cook. Here are some practical tips to help you on the way.
✏ A red line for a new project
This method can help you with any complex project. In the last 6 months, I have used it to help teams: enter a new disease area (rare cancers); understand how their new offering will impact the healthcare system (gene therapy); refine the go-to-market strategy of a start-up; develop a new process (setting up the EU Join HTA assessment)...
Well, I hope you get my point. Use this approach for the next project you start.
Remember: when everything is uncertain and volatile, you need a common ground, a red line to follow.
​
✏ A check list to assess what you have done and align your team on next steps
I like to use it as a check list when I meet a team for the first time. You can use it to reflect on the current stage of an important project and discuss it with your team: Where are we? What are our next major milestones? Does the data we have collected invite us to refine the solution?
​
✏ A metric of your exploration and diverging process
Diverging steps, i.e. exploring multiple needs or solutions, are usually the steps that get cut and undermined in times of cost pressure (in other words, a lot lately 😱).
But they are needed. So once you know where you are on your journey, ask yourself: How far have we explored the problem? How many clear problem statements (or questions) have we come up with? Have we listed enough ideas?
In fact, there is no such thing as "lean innovation". If you lean your process too much, you will stifle creativity and miss business opportunities.
​
✨
→ Here is a presentation of our online academy
here
​
→ My adapted version of the Business model Canvas for healthcare: "trying it is adopting it"
here
​
​
Hit reply to let me know if you liked this edition or if you tried these tips. I respond to every person who writes to me!
See you in two weeks. Keep the spark alive, and be intentional :)